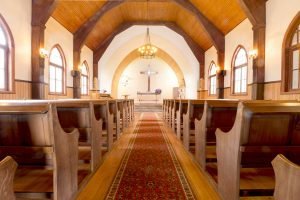 The Presbyterian Church of Wales has approximately 600 churches all over Wales and beyond. Our churches vary in size, from a mere handful to many hundreds. Every church is governed by elders, who are elected by the congregation. Around half our churches have a minister who, with the support of the elders, takes a lead in providing pastoral care and directing worship. Many churches are part of a local pastorate and share a minister with other churches. Where there is no ministers, elders take responsibility for the spiritual life of the church.
Most PCW churches are in Wales but there are several over the border in London, the Midlands and on Merseyside and the Wirral.
The scope and breadth of our churches' work varies widely. The main focus is Sunday worship but the vast majority of our churches also hold midweek meetings such as prayer groups or Bible study and social events. Many are actively involved in their communities, offering their facilities and other services ranging from mother and toddler groups to feeding the homeless and fundraising.
Find a church
You can search for a church in the Churches section of this website. Our churches' services and activities are open to everyone.
Joining a church
If you wish to profess your faith in God and commit to your local church, you may wish to consider becoming a member.
Regular worship and receiving the Sacraments are central to being a member of a church. To be a member of the Church is a great privilege so members have a duty to take part in the church's worship and work and to contribute to it in terms of money, time and talents. Members should try to uphold the standards expressed in the Gospel and to behave as a faithful witness for Christ.
You can become a member of your local church in one of three ways:
When young people reach around 16 years of age, the minister or elders should hold classes to help prepare them become full members of the Church. It is hoped that the young person will make his or her own public profession of faith in a specially arranged worship service – known in other Christian traditions as confirmation – before being granted full membership. Traditionally, this involves admission to Holy Communion for the first time.

Those moving from one PCW church to another can do so by letter of transfer.

Others, including members of other denominations, should discuss becoming members with the minister or elders
Centres
The Presbyterian Church of Wales has two centres: Coleg y Bala and Coleg Trefeca. Our centres can host both Christian and secular groups and individuals – please see their forthcoming websites for details.
Coleg y Bala is a children and youth centre located in Bala, Gwynedd. Coleg y Bala regularly hosts day, weekend and week-long courses for children and young people.
Coleg Trefeca is a lay training centre in the Brecon Beacons. Coleg Trefeca regularly hosts conferences and courses and is ideally situated for prayer, meditation and relaxation.
Click here to watch a video about Coleg Trefeca  from EBCPCW.